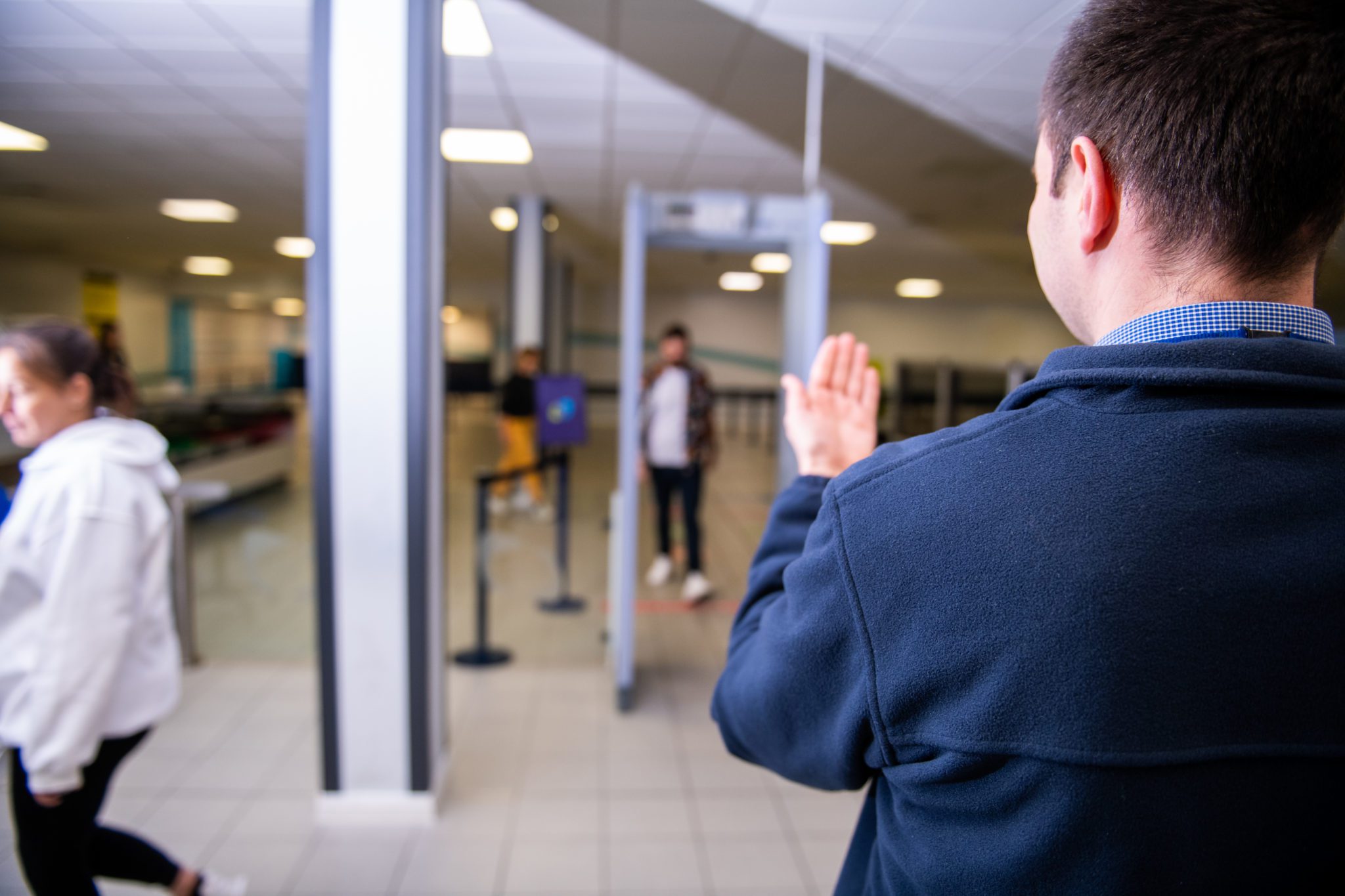 How to breeze through security
The latest security regulations, tips and advice
By preparing before you reach security you can help us to ensure that you breeze through and minimise any delay to you and your fellow passengers.
If you're taking items with you that aren't immediately necessary on the journey, please pack them into any hold luggage – try to only carry essential items in your hand luggage… like a passport or an empty refillable water bottle.
The full restrictions are available to read on the gov.uk website.
Choose an option below to learn more about
Taking liquids through security
Liquids, aerosols and gels (LAGs) can be a tricky one to wrap your head around… there are a number of restrictions you need to be aware of.
Let's take a look.
Restrictions you need to be aware of
LAGs must be in a container marked 100ml or less. Any LAGs in a container marked larger than 100ml (whether full or not) will not be allowed through security.
All containers must be carried in a single, transparent, re-sealable plastic bag which holds no more than one litre and measures 20cm by 20cm with no depth.
When possible, London Southend Airport will provide clear plastic bags at the preparation area before security.
Each passenger is only allowed to take one sealed liquid bag through security.
LAGs must be placed and outside of hand luggage in a security tray, so that our security team can identify them easily – please make sure they're not hidden underneath bags or jackets, etc.
LAGs are any gel, cream, paste, fluid or treated solid. Security will be looking out for bottled drinks (empty bottles are permitted), suntan lotions, fragrances, cosmetics and toiletries.
Wet wipes are not included in the restrictions on liquids.
For more information, read official guidance on hand luggage restrictions, which apply to everyone departing from airports in the UK, no matter where they're flying to.

Baby food & milk
Powdered baby food is permitted in hand luggage and is not included in the restrictions on liquids.
Your hand luggage can contain:
Breast milk up to 2 litres; however, this is not inclusive of frozen milk
Sterilised water (must be in a suitable baby drinking vessel)
Baby food
Specialised baby milk formulas
Baby food or powders should be packed into hold baggage where possible as items like these can obstruct images on X-ray machines or be mistaken for suspicious items.

Food
Passengers should be aware that restrictions on personal imports now apply to all travellers entering the EU. You cannot bring products of an animal origin (POAO) such as those containing meat or dairy (e.g. a ham and cheese sandwich) into the EU.
There are exceptions to this rule for certain quantities of powdered infant milk, infant food, special foods, or special processed pet feed. If you are carrying prohibited items in your luggage, vehicle or on your person, you must use, consume, or dispose of them at or before the border.
Find out more on the rules and exemptions in the European Commission guidance on personal imports.

Prescribed medicines
We know that you might sometimes need to take prescribed medicine through security. But here's what you need to know in terms of restrictions – you can carry the following in your hand luggage:
Essential medicines of more than 100ml, including liquid dietary foodstuffs and inhalers
Medical equipment, if it's essential for your journey
You'll need to carry proof that the medication is prescribed to you (for example a letter from your doctor or a copy of your prescription) if it's both:
In liquid form
In a container larger than 100ml
You do not need to show proof if the medication is either:
In tablet form
Liquid in a container that's 100ml or smaller
For more information, please visit the gov.uk website.

Sharp items & tools
You may take small scissors (with blades no longer than 6cm), blunt scissors, disposable razors, nail clippers, tweezers and knitting or sewing needles in your hand luggage.
For more detailed information, please visit the gov.uk website.

Large electrical items
Items such as laptops or tablets can be taken through security, but they must be removed from hand luggage and placed separately in a security tray.
Please also remove large game consoles, hair dryers and hair straighteners/curling tongs.
The full restrictions are available to read on the gov.uk website.

Preparing for security in advance
Ensure you are aware of the current restrictions
Ensure your pre-prepared liquids bag is removed from your hand luggage and ready to be placed in the security tray
Ensure you are only carrying items in your hand luggage that are essential to your trip
Be ready to remove electrical items
How to enter security
To access the security screening area, you must first present your boarding pass at our boarding pass check point, so please have your digital (or printed) boarding pass at the ready. A member of security will be available to help should assistance be required.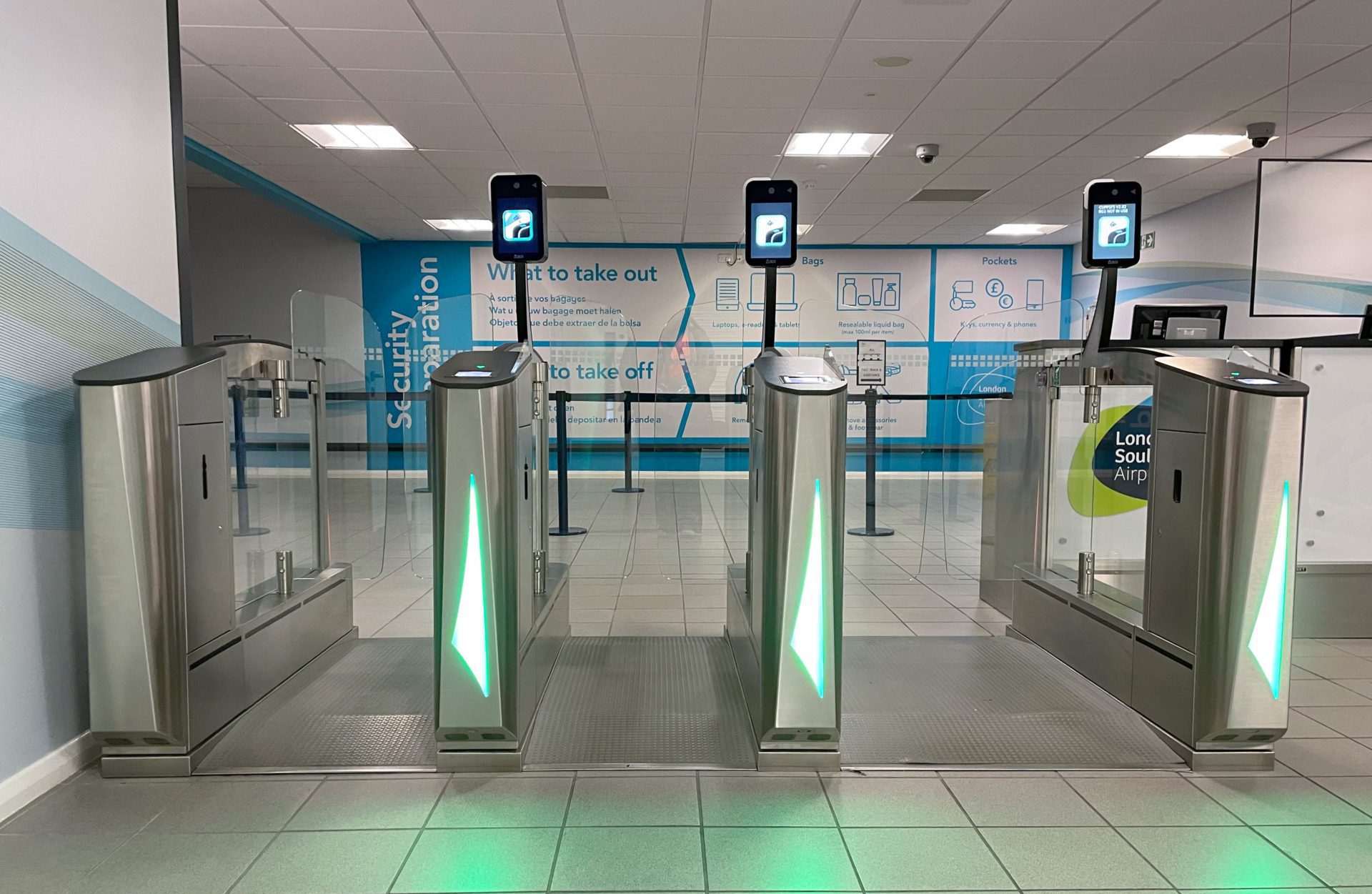 Placing your items on the tray
Remember to remove any large electricals from your hand luggage, including laptops, tablet/iPad, hair dryer, hair straighteners
Please remember not to cover over any liquids or electrical items in your tray with any you have removed from your person. Please don't put your coat over your liquid bag.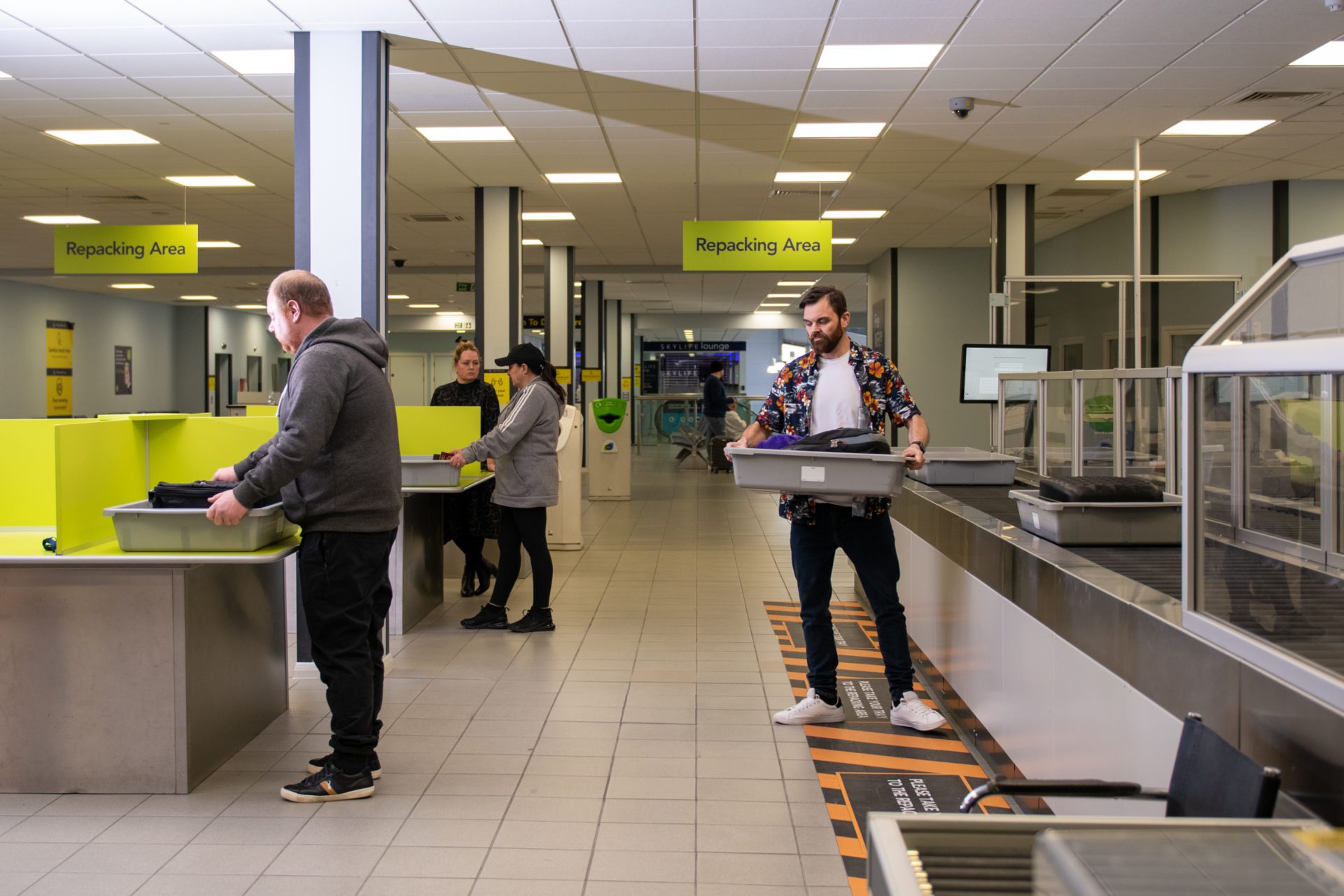 Passenger screening
Passenger screening preparation
As the screening area includes detection of metal objects, we ask that you:
Remove all outer wear, e.g. coats, hats, hoodies, and accessories, including sunglasses, belts and watches
Check any remaining objects are removed, especially in pockets, including loose change
Remove any heeled or platform shoes – this also includes any boots
Screening by body scanner

To ensure we comply with UK Aviation Security regulations, we now operate the latest passenger screening equipment in our screening and search area.

Once you're ready for screening, please approach the screening area (you'll be directed by a member of staff), where you'll be welcomed forward by a security staff member. You will first pass through a metal detecting archway and may also be screened by body scanner.

Occasionally the security operative will have to ask for shoes to be removed, even if you are wearing flat shoes – this is to allow for them to be separately screened.

We have the latest shoe scanning equipment in order to make this process quick and easy. Seats are available and you can also ask for disposable foot socks.

If you are selected to be screened by scanner, there's nothing to worry about. In fact, you'll probably find it quicker than a traditional body search. The scan takes a matter of seconds and produces a generic image with no distinguishing features – its only job is to detect any concealed items.
Opting out of passenger screening

If you wish, you can opt out of being screened by a body scanner and will instead be screened by an alternative method – which includes at least an enhanced hand search – to ensure that we comply with security requirements.

An enhanced hand search will take place in a private room or area away from the main security zone, and may involve loosening and/or removing some of your clothing.

If you do not consent to an enhanced hand search, you will not be allowed to enter the security restricted area and you will not be permitted to travel on your flight.

The full restrictions are available to read on the gov.uk website.
After passenger screening

Once your tray(s) has completed the screening process, please take it from the conveyor belt and use the repacking areas provided – this prevents delays to your fellow passengers.
Security Fast Track
Pass through security as fast as possible with our Fast Track lane. Pre-book your Security Fast Track today.
Please note that you if you change your plans, you can change your dates free of charge.
Need help?
Check out our advice
What rules should I expect to follow when passing through security?
How many liquids 100ml or under can I carry?

You can carry up to 1 litre of liquids in one 20cmx20cm clear plastic bag. Containers must not exceed 100ml. There's one bag allowed per person and it must be sealed. The bags are available free of charge in our security areas.
What are the rules if I'm travelling with medicines and medical equipment?

You can carry essential medicines with you. There is no limit on the amount, but you will be asked to provide proof such as a doctor's letter or prescription. All medicines will be subject to additional security screening.
Is there a child friendly way through security?

Families with young children (five and under) can use the Fast Track lane when presenting boarding passes; however, you will then join the normal security queue after this.