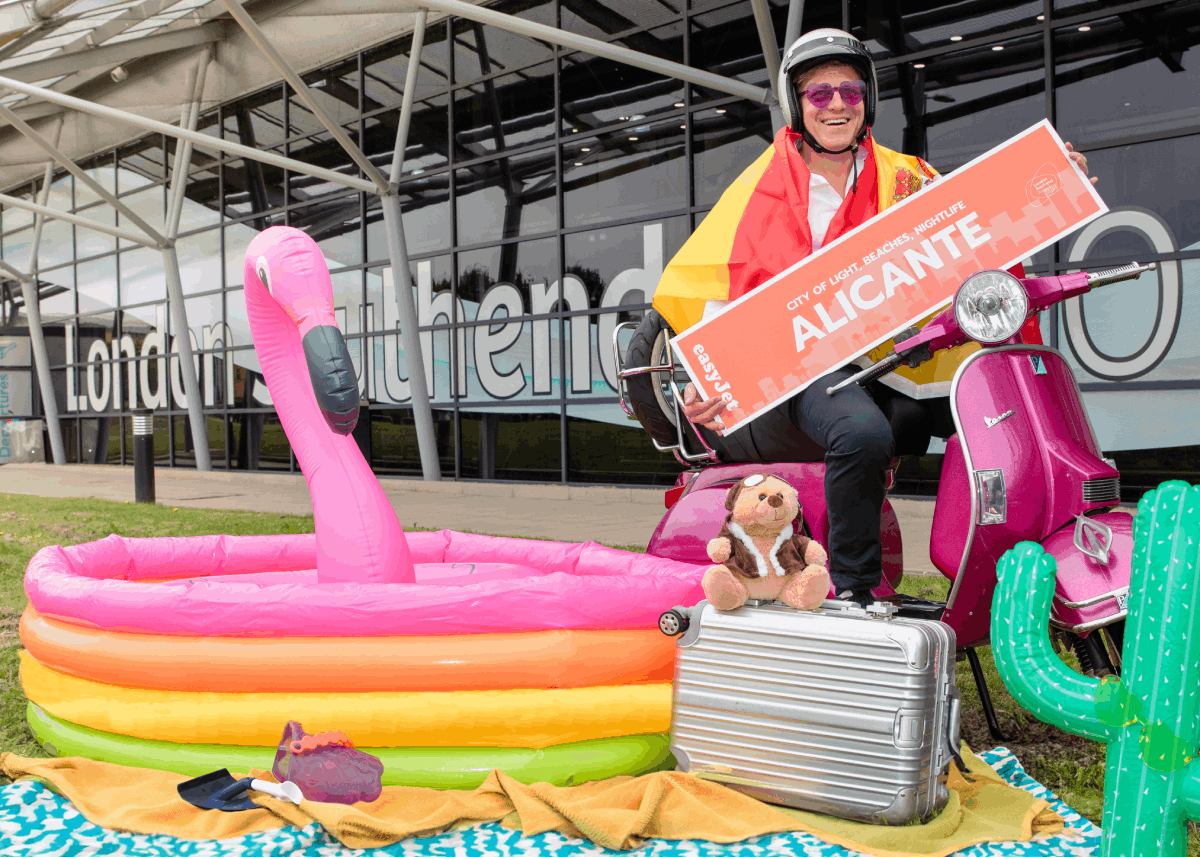 easyJet announces relaunch of route to Alicante from London Southend Airport
Flights to Alicante will take off from 29th October 2023 and operate twice a week all year-round
The Costa Blanca favourite becomes the seventh destination easyJet will fly from London Southend alongside Geneva, Malaga, Majorca, Faro, Amsterdam and Paris
The route with fares from just £22.99 adds to an enticing existing mix of leisure and business from routes from LSA
easyJet has announced it will relaunch its route from London Southend to Alicante, which last operated in 2020. 
On sale from today, the re-started route to the popular holiday hotspot on the Costa Blanca coast adds further choice for customers throughout the year looking to explore its quaint old town centre's maze of narrow streets, its vibrant nightlife and restaurants or to soak up the sun on its stretch of beaches along the south eastern Mediterranean coastline; Alicante offers something for everyone.
Alicante, known as the 'City of the Sun', is reportedly the sunniest city in Europe with an average of 349 hours of sun each month, making it the perfect year-round destination.
The route will operate twice a week from Sunday, October 29, 2023. Flights will depart on Thursdays and Sundays with fares starting from £22.99.
It comes just weeks after easyJet announced a new year-round flight to Amsterdam and also added Paris and Geneva this year.
Alicante will be the seventh destination easyJet now serves from London Southend, alongside Malaga, Palma, Faro, Amsterdam, Geneva and Paris.
easyJet previously flew to Alicante between April 2012 to August 2020 and flew more than 856,000 passengers in that period.
Tickets are on sale now at easyJet.com.
Ali Gayward, easyJet's UK Country Manager, said: "We are really pleased to be launching another route from London Southend to Alicante to operate all which will be popular with those thinking about holidays this year and next. The city enjoys sunny weather all year round, which makes it a great holiday destination at any time of the year.
"We now offer more choice and great value for customers travelling with us so by further expanding our services at Southend so we are delighted to be offering customers great value fares and even more destinations to choose from."
John Upton, London Southend Airport CEO, said: "We are excited, delighted and extremely proud to be able to deliver flights to Alicante for our passengers this winter; restarting our most profitable and popular route from 29th October, and opening the door for passengers in Essex, east London and southeast of England to explore yet another area of Spain with our airline partner, easyJet.
"I look forward to welcoming friends and families back to London Southend as we celebrate this milestone in the coming weeks with the return of their favourite destination."
Exclusive offers and exciting route updates fly straight to your inbox with London Southend Airport's community newsletter. Sign up here.
About London Southend Airport
London Southend Airport, ranked the best London airport by consumer group Which? six times and voted the best UK airport (under three million capacity) by the Airport Operator's Association in 2019.
Serving close to 2.3 million passengers in 2019, London Southend offered services to around 40 domestic and European cities. The terminal has its own railway station, less than 100 paces from the main entrance, with up to six trains an hour at peak times to central London, taking just 53 minutes to Liverpool Street and 43 minutes from Stratford. All airport car parks are located minutes from the terminal entrance.