Welcome to the first issue of the London Southend Airport Community Newsletter.
Our aim is to engage with you transparently, sharing relevant news with our local community twice yearly, keeping you up to date on our:
Environmental goals
Connecting communities commitments
Employment status & opportunities
Education & innovative skills programmes
Airport operational and customer experience enhancements
Latest airline/route announcements.
We will also share key updates from our ongoing specialist forums enabling direct dialogue on key matters such as the impact of noise and the experience we deliver for Passengers of Reduced Mobility (PRM).
We would love to hear your thoughts on this newsletter and of any other issues that are important to you, so please do get in touch [email protected]
Glyn Jones, CEO of London Southend Airport
We were very excited to welcome easyJet back to the airport this summer, having been busy readying and enhancing the airport for the safe return of passengers. There are three routes on offer throughout the summer including Palma, Malaga and Faro.
Our internal focus has been on our people; their facilities, communications and training – growing the skills and the safe operation of the airport by our incredible team and evolving hybrid working practises that are enabling smart efficiencies.
We are dedicated to operating London Southend Airport responsibly. We take great pride in the contribution we make to our local community and the broader area we serve. Being a good neighbour is essential and we are committed to working with the local community to ensure we minimise effects of our operations on our closest neighbours. Our team works considerately with the local community and reports on a regular basis to the Airports Consultative Committee.
You will read below, more detail on our significant contributions in both fundraising and volunteering support of our local charity partner SECE Mind and have continued to build on our Environmental, Social and corporate Governance (ESG) framework.
I hope you find our new Community newsletter engaging and useful and I look forward to bringing you good news in future newsletters as we recover and grow.
In the meantime, I wish you and your families a happy and healthy Summer and I hope to welcome you to London Southend soon.
Connecting Communities
Resident Survey results
Over 7,000 people have participated in a survey commissioned by London Southend Airport, showing huge community support for the airport.

Education, Employment & Skills
London Southend Airport has worked with Southend City Council to support a number of initiatives the council has developed to help drive economic growth through skills development in the borough.
These have included:
The Industry Champion programme enabled local business people to support a number of school and college career activities that offered young people from low-income backgrounds support and guidance to build meaningful careers.
The Enterprise Adviser Network is a national programme that pairs senior business leaders with schools and colleges to build a robust careers plan for young people and enhance the careers provision.
The 60 Minute Mentor is an employer led mentoring programme which pairs local business leaders with disengaged year 8 students, who would benefit from a role model to talk about career options and choices around post 16 education or training.
PAVE is an employment and skills programme, funded by DWP and delivered by Southend City Council that works in partnership with local employers to support unemployed over-25's back into work.
Did you know…?
80% of all London Southend Airport employees live in a Southend City (SS) postcode.
Military Covenant
In early 2022 we became proud signatories of the Armed Forces Covenant. We work proactively to encourage ex-service personal to join the business working with the Career Transition Partnership, developing relationships with local Reservist Units and work with recruitment agencies who share our ethos and are also Armed Forces Covenant accredited. London Southend Airport is now working towards Silver status.
Stakeholder event
London Southend Airport invited guest speakers from Ikigai-Capital, Thames Estuary Growth Board and ZeroAvia to present the opportunity to establish a hydrogen fuel hub with counsellors from the City of Southend and Rochford.
The presentations explained how establishing a hydrogen fuel hub in the City of Southend and Rochford could help attract investment, new industries, jobs, skills and growth to the local area.
Annual Transport Forum
In February, the airport held its annual transport forum. The event was well attended by local authorities, onward transport providers including Greater Anglia, First Busses, Arriva and Ensign as well as representatives from the Southend Bus User Group, disability groups and local residents. This meeting was a great opportunity to re-engage with our sustainable transport providers to prepare for the return of passengers and staff to the airport, and discuss progress against sustainable targets n the Airport Surface Access Strategy (ASAS).
Community Noise Forum
In November 2021, the airport invited local residents to form an airport community noise forum. The forum is led by an independent Chair and meets quarterly. Membership includes residents from each SS postcode area around the airport, as well as local resident groups, local authorities, the DfT, CAA and independent noise experts.
The forum has been established so the airport can listen and engage with local residents, seeking understanding and, where possible, improvements and/or resolution on aircraft noise matters. The inaugural meeting was held 2 November 2021, and further meetings have taken place in February and May 2022. Presentations included an explanation on light aircraft training/circuits.
The Airport has proactively engaged with airport noise specialists Andersons Acoustics to measure our performance against the ICAO Balance Approach and see if we can find ways to improve our noise management. Updates on this work were also presented to the community noise forum.
Through engagement with our airlines the Airport has introduced a new tariff incentivising the use of quieter and cleaner aircraft. The new noise surcharges, that include significantly higher fees relating to night-time operations, will help encourage the use of quieter planes and daytime operations.
Environmental
We continue monitoring our environmental impacts in particular our carbon foot print as we prepare to apply for level 2 airport carbon accreditation in 2022. We await outputs from COP26 before progressing further on additional fronts. Without question environmental sustainability continues to increase in importance and as a consequence the airport remains committed to sustainable operations and growth.
Did you know…?
The airport has its own solar farm on the airfield. With 9,500 solar panels located to the north of the airfield and a further 496 solar panels on the terminal roof, the airport generates over 20% of its energy.
Uncongested airspace at Southend means that aircraft are rarely delayed on approach or required to enter a holding pattern on route. This helps to reduce track miles and emissions.
Air Quality (NO2)
Working closely with our airlines, our suppliers and the local community, our strategy has ensured that since 2011 air quality at LSA has remained significantly below Government guidelines.
Did you know…?
Air quality around the airport is cleaner than in the centre of Southend and much lower than the A127.
Annual mean nitrogen dioxide concentrations 2011–2021 (μg/m3):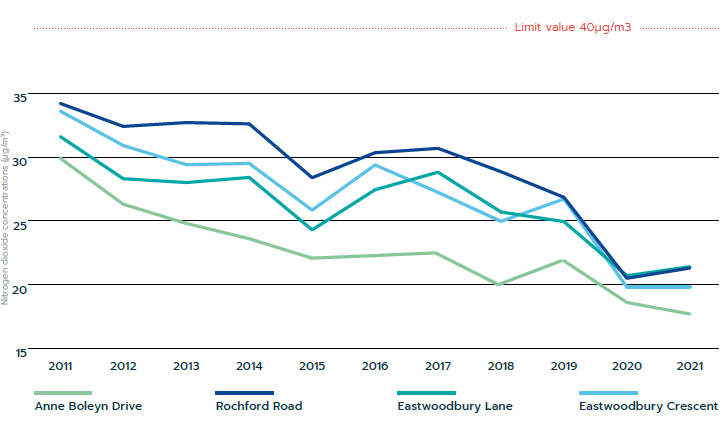 Charity commitment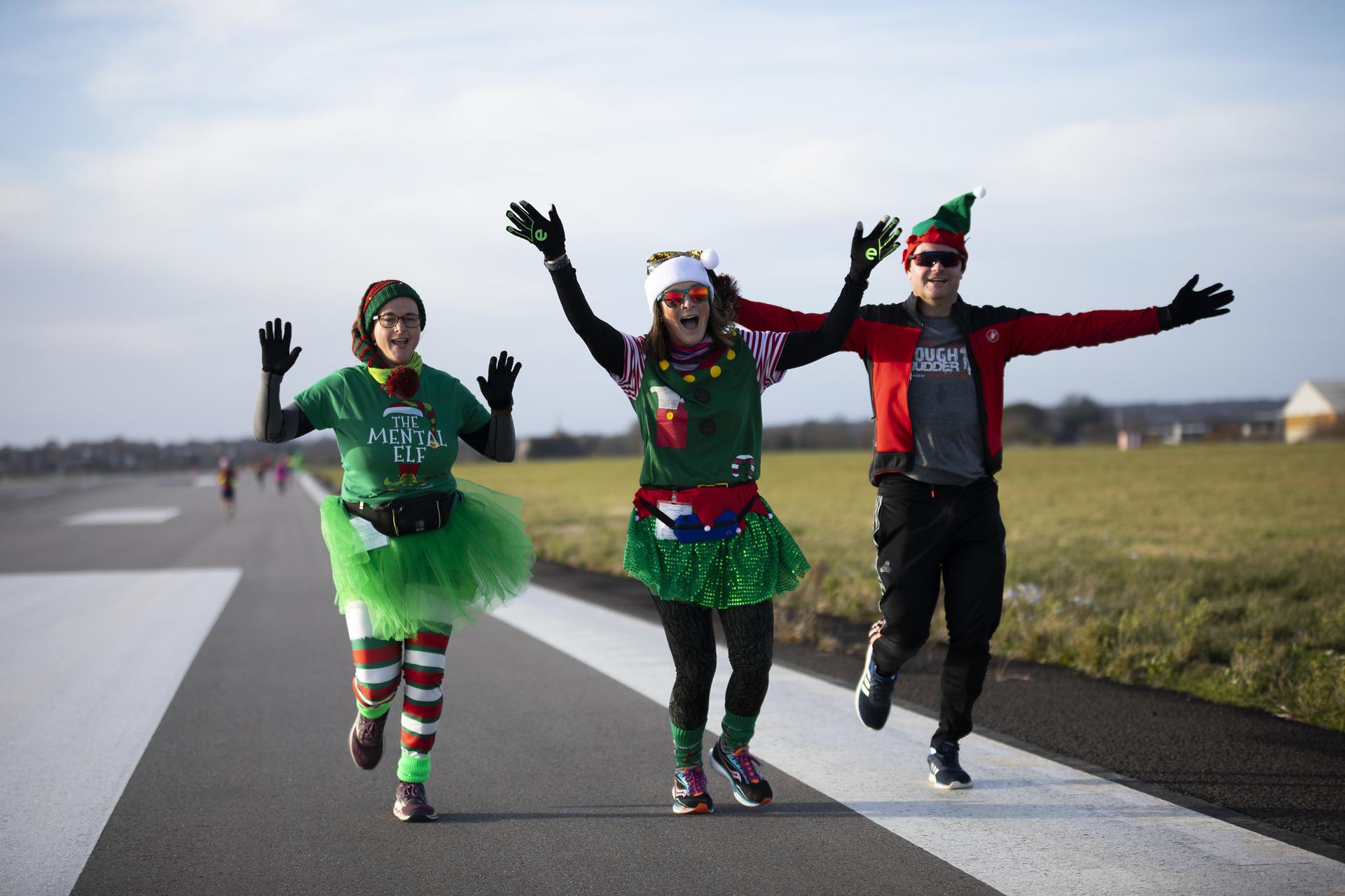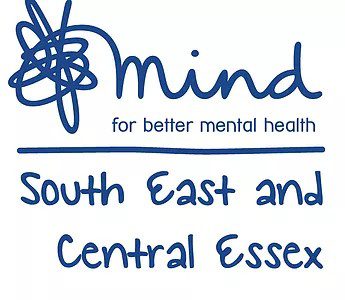 In July 2021 London Southend Announced a new charity partnership with SECE Mind (South East and Central Essex). In December we hosted a 'Mental Elf' event on the runway and with over 50 members of the public joining airport employees in an attempt to complete 54 miles – the SECE Mind boundary around the South East and central Essex area – participants achieved a staggering 393.16 miles and over £15K for the charity!
This great work will support the charity and specifically their Nelsons Gate Project which is a development comprising 11 flats supporting supervised residential housing for adults with a mental health condition who are unable to cope with living independently.
The airport will also continue initiatives to support both employees and the wider community, from public Terminal Tours for anxious/hidden disability passengers to 'Coffee with Cath' mental health support sessions for staff, to help provide support and raise awareness.
In February, we were pleased to share essential items with the residents of Nelson Gate.
Catherine Weir, Services Manager, SECE Mind, "These donations make a big difference to our tenants, especially in the current climate where people need to make choices between essentials. Special items such as toiletries can be seen as a luxury that people struggle to prioritise, so this is a little piece of luxury that can help to make people feel special.
Also in February, three of our cleaning team staff spent a full day at Nelson Gate, spring cleaning their communal areas and stairwells. The airport is working on rolling out a full volunteering programme in the future that will enable all staff members the opportunity to get involved in community projects.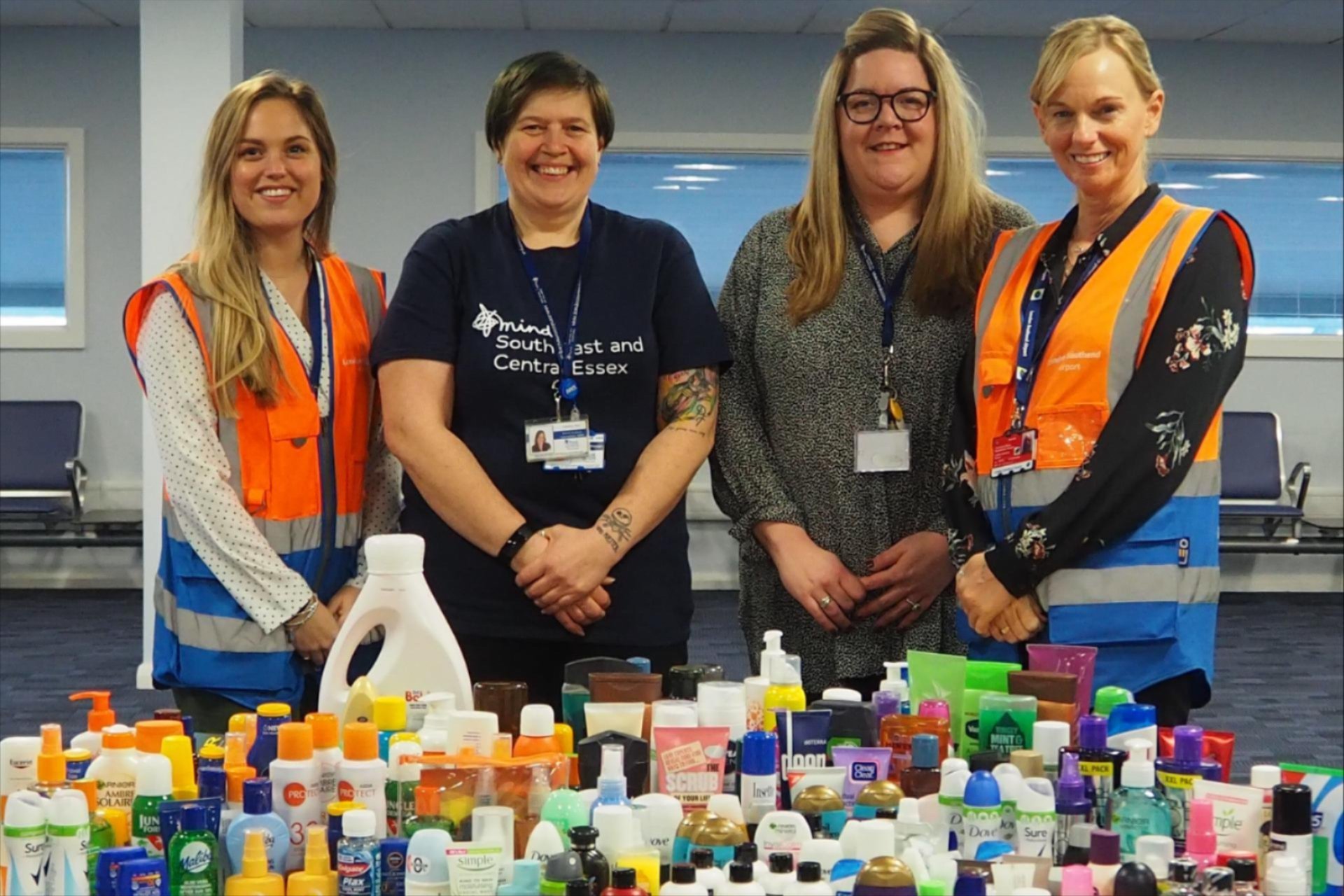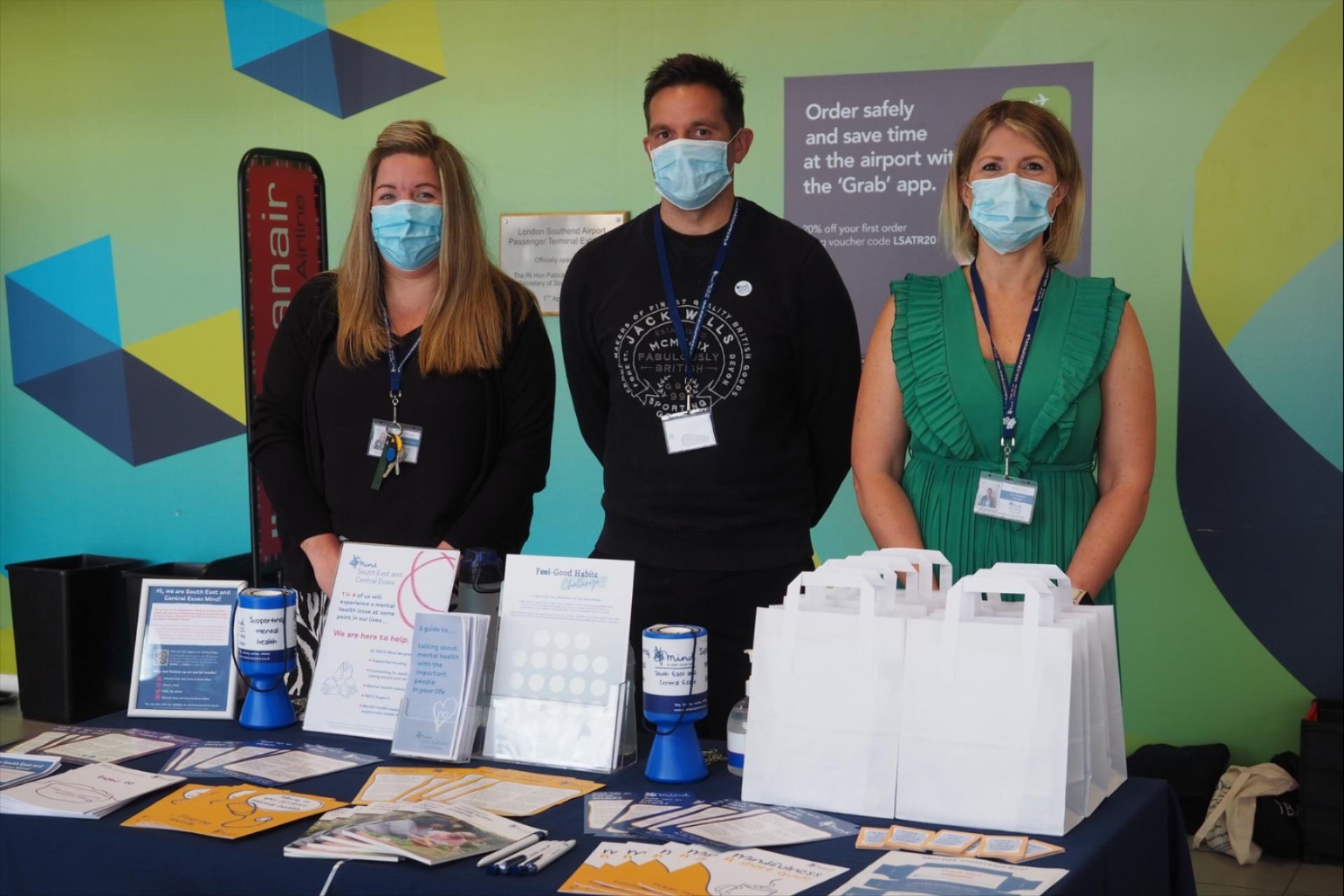 Passenger experience
PRM (Person with Reduced Mobility) Committee
In 2019, London Southend Airport promoted and then formed a Disability Awareness Committee to ensure that all passengers including those with reduced mobility and hidden disabilities, can access and travel through the airport with ease. Meetings included volunteer representatives from the following groups:
Blind/Impaired
Autism and ADHD
Dementia
AGE Concern
Action for Hearing Loss
Reduced Mobility
Young/Early on-set Dementia
Anxiety and Mental Health

In September, the airport welcomed members of the public into the terminal for dedicated tours to support mental health and anxiety for anyone feeling nervous or anxious about a return to flying after the pandemic and those with hidden disabilities that want to familiarise themselves with an airport prior to travelling.
The team from SECE Mind set up an information stand and were able to offer advice on managing anxiety and other mental health conditions. Information leaflets and gift bags were handed out to tour visitors.
Therapy dog programme – In partnership with Essex Therapy Dogs
As part of our improving accessibility initiatives, London Southend Airport offers a weekly timetable of onsite therapy dogs. Known to reduce anxiety, therapy dogs can help even the most nervous of fliers regain their confidence. All of the therapy dogs are fully trained to bring comfort and reduce anxiety – particularly around nervous people, those experiencing stress, or those with hidden disabilities.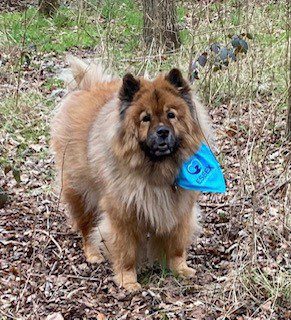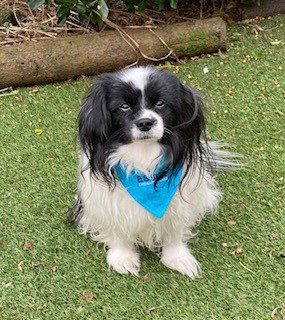 Airlines and Destinations
Our Summer 2022 destinations are; Malaga, Faro & Palma de Mallorca..
Want to hear about new destinations and airport services first? Join our newsletter.