Services & facilities
A-Z of the services and facilities available
All facilities
Baggage trolleys

Baggage trolleys are available for £1/euro. They can be found in all carparks and in the baggage arrivals area. Trolley return bays are available at check-in and in all car parks.
Charging points
Car parks

London Southend Airport has multiple parking options, all just a few minutes' walk to and from our terminal. You can pre-book your parking to guarantee your space, or turn up on the day.
Car hire

Please note car hire is temporarily unavailable.

Our car hire provider Europcar is based in the arrivals area in the terminal building.

Find out more about hiring a car at London Southend Airport.
Cash machines

Cash machines are available in arrivals and departures (before and after security). The machines dispense euros as well as sterling. They can be found:

Before security

Inside the terminal building adjacent to check in and in the arrivals area.

After security

On the lower level of the departure lounge.
Connecting passengers
Currency
Eating & drinking

Details about the food and drink offers available at London Southend Airport are available on our website.
Hotel – Holiday Inn

You can relax before or after your travels. The hotel is conveniently located just a few minutes' walk from the airport terminal and train station.
Lost property

If you have lost items while you are at the airport, please complete our lost property enquiry form.

If you discover you have left an item on your departing flight, please contact the lost property at your destination airport.
SKYLIFE Lounge

The SKYLIFE Lounge at The Pilot Café can be found in Departures. Relax in style by booking in advance. SKYLIFE Lounge currently accepts Priority pass, Dragon pass, Diners pass, Lounge key and Lounge club, where capacity allows.
Medical help

If you feel unwell please alert any member of staff, who will arrange for a qualified first aider to take care of you.
Meeting someone at the airport

If you're meeting someone at the airport, we recommend that you head to the seating area at arrivals.
Pick up & drop off

Our conveniently located Short Stay car park is located directly opposite the terminal (charges apply). There is also a free pick up/drop off option in Long Stay 3, just a couple minutes' walk from the terminal where you can park free of charge for up to 15 minutes in any 24 hour period. More information on picking up and dropping off.
Post box

There is a post box located inside the terminal building adjacent to check in, opposite the main entrance to the airport.

Last collection times

Monday to Friday: 4.15pm

A later collection is made at 6:30pm from the Postbox at Short Street, Southend-on-Sea, SS1 1AA.

Saturday: 11.30am

Other collections

Additional collections may be made throughout the day until the last time shown.

For further information please visit www.royalmail.com.
Quiet room

Our quiet room provides a restful place for passengers of all faiths. It is located next to the ticket desk in the check-in area, before security.
Security Fast Track facility

Want to breeze through security? Purchase Fast Track now.

Please note that if you change your plans, you can change your Fast Track dates free of charge.
Shopping
Smoking areas

In line with UK law, smoking (including the use of electronic cigarettes or vaping) is not permitted inside the airport buildings and walkways.

You will not be able to smoke once you have passed through security in the departure lounge or when travelling to or from the aircraft, in the walkways.

There is a designated smoking area outside the front of the terminal.
Special assistance

If you require special assistance while at the airport please inform your airline at least 48 hours before you fly. Give as much notice as possible both for your outbound and return journeys so arrangements can be made to give you the assistance you require.

If you arrive at the airport and haven't booked in advance, we will make all reasonable efforts to assist you. Please head to the special assistance desk located opposite the terminal entrance.

For more information, visit our special assistance information pages.
Terminal opening hours

The terminal is NOT open 24 hours, but from three hours before every departure, through until one hour after each arrival – inclusive of delays.
Toilets & baby changing facilities

There are plenty of toilets, including wheelchair accessible toilets and baby changing facilities, conveniently located throughout the terminal building in both arrivals and departures. Read about our family facilities.
Transport

Taxis

Our taxi provider can be found immediately outside the front of the terminal, where a taxi marshal can assist you on your journey.

Find out more about taxis to/from London Southend Airport


Trains

London Southend Airport has its very own train station just 100 steps from the terminal, with convenient links to Central London. Turn right at the main exit and you'll see the station directly ahead of you.

Find out more about trains to/from London Southend Airport


Buses

Arriva buses operate from the bus stop located outside our Holiday Inn, a 7-minute walk from the front of the terminal. Journey times, timetables and fare information are available on our website.

Find out more about buses to/from London Southend Airport
VAT refunds

You can complete the form online.
WiFi

Free WiFi is available throughout the terminal to help you stay connected. Just select London Southend Airport Free WiFi and follow the on-screen instructions. Once registered, you're connected! Feel free to follow us on social media whilst you're here.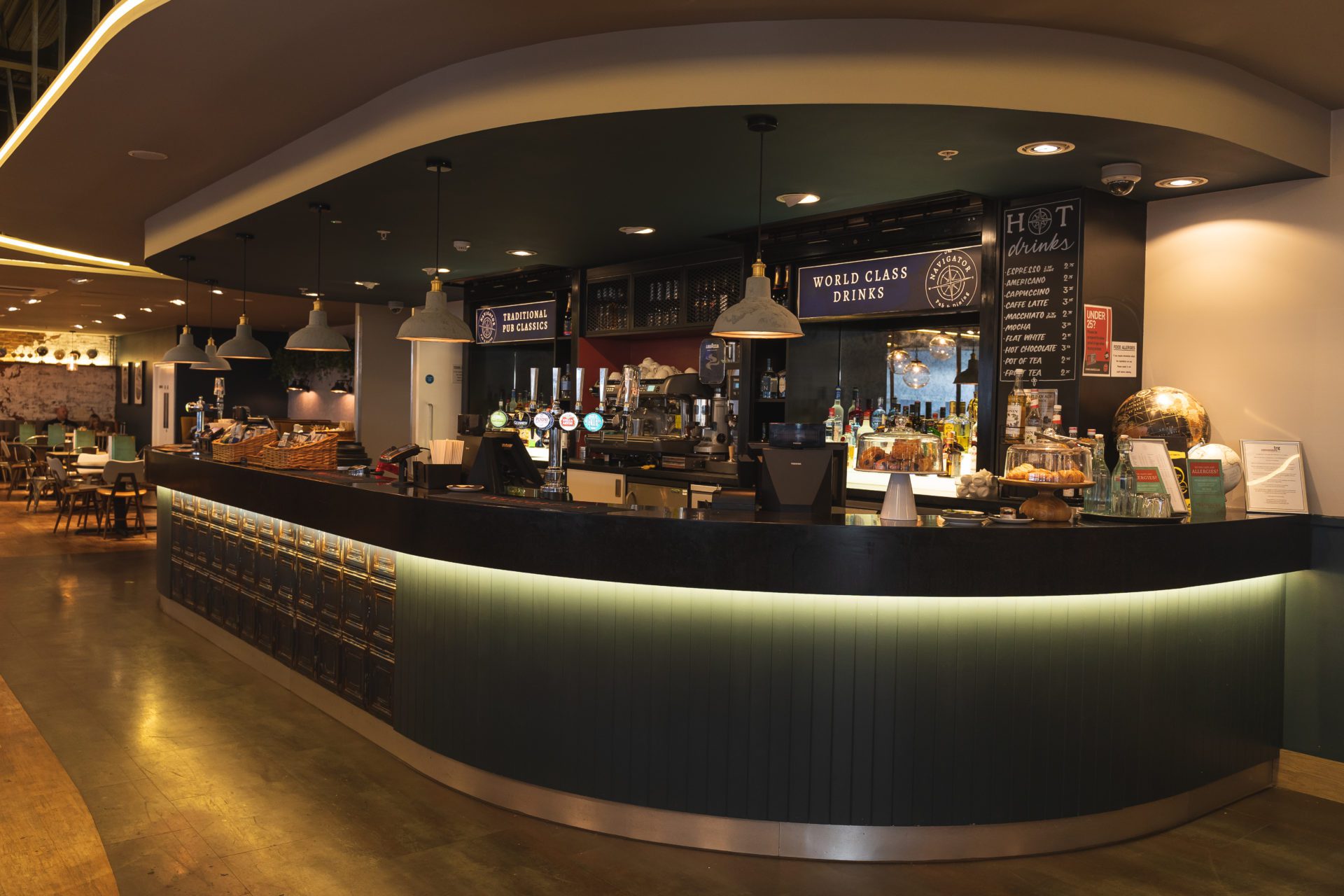 Need help?
Check out our advice
What bars and restaurants are available?
What shops are at the airport?
I've lost something at the airport, how do I get it back?

Please complete our Lost Property Form and a member of the team will get back to you as soon as possible. For items lost on an aircraft, please contact your airline.
What time does the airport open?

The airport opens three hours prior to departure time, and remains open until one hour after the time of arrival, allowing for any delays.