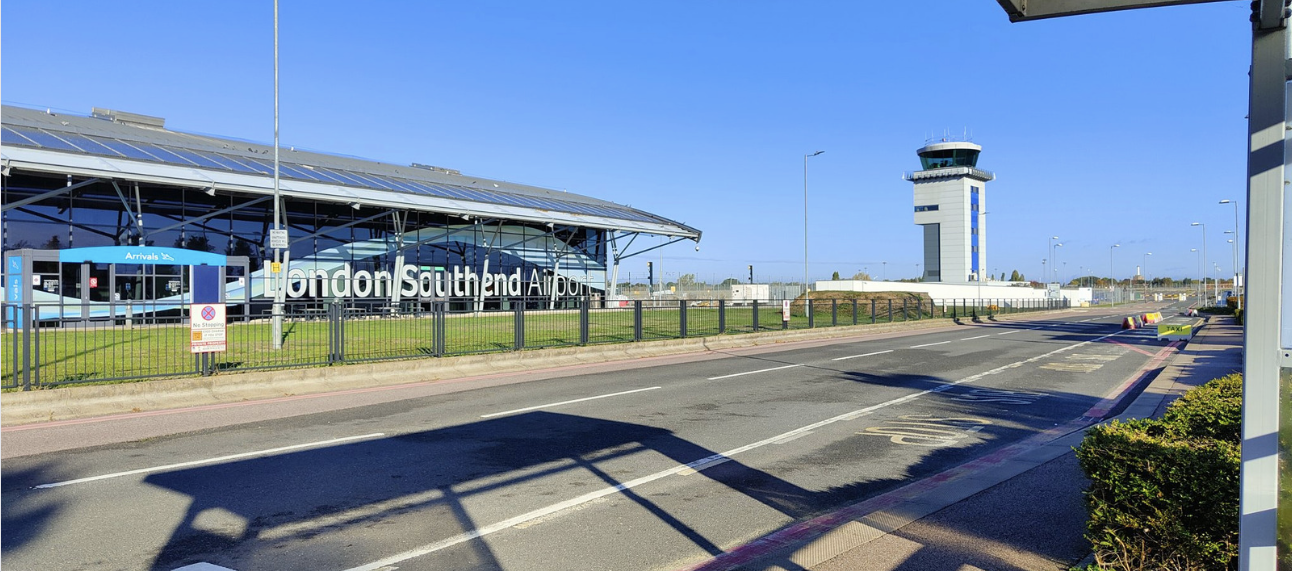 Welcome to the second issue of the London Southend Airport Community Newsletter!
Hello, I'm delighted to begin with the announcement of our new route to Paris Charles de Gaulle Airport starting Sunday, October 29 which serves as another reminder of our commitment to rebuilding London Southend Airport.

Following a recent trip to Routes Europe, the largest European aviation networking event, we are confident that there will be further growth for summer 2024; all the more so now that we will be operating a year-round commercial programme. I encourage everyone to follow our social channels for route news and updates on this front.

Here at London Southend, I'm surrounded by an incredible team who deliver an excellent passenger experience from plane to train and back again – a team who I know will act with both dynamic pace and agility to sustainably recover our award-winning business to the passenger levels of 2019, and beyond.

In fact, more than 89,000 passengers travelled through our terminal in the year ending February 2023, and we're hoping to see that number lift to approximately 140,000 by the end of this calendar year. Watch this space.

We have recruited for 25 new jobs across different departments in readiness for summer and are still on the lookout to expand our team of Air Traffic Control Officers, further to recent recruitment success in this area.

Naturally, supporting and listening to airport colleagues is imperative to the success of London Southend, but so is maintaining a strong relationship with the community that we serve and are an integral part of. Importantly, throughout late 2022 and early 2023, we have met directly with our closest neighbours living adjacent to the airport boundary to consult, listen and learn by openly discussing their specific concerns about aircraft activity and noise.

Our Community Noise Forum appointed a new Chair earlier this month and together we shall maintain an impartial pathway for local communities to engage with us directly on issues associated with the airport.
Since joining the airport as CEO in September 2022, I have witnessed overwhelmingly positive support for London Southend from our local community and stakeholders, such as Essex Chambers of Commerce, Southend and Rochford Councils and Essex County Council. So I would again like to take this opportunity to say thank you and to let it be noted that we will continue to work together to repay this championship through an ambitious and exciting recovery. We'll catch up again soon.

– John Upton, CEO London Southend Airport
Airline & Route Development
Routes Europe 2023
Members of our Senior Leadership Team, including CEO John Upton, attended Routes Europe 2023 to connect with airlines, destinations and airports about our exciting offer for profitable growth in the world's largest aviation market.
We promoted our unique selling points – including our 8.2m catchment area, low operating costs, proven routes and innovative marketing tactics – with potential partners and discussed how we can work together to bring new destinations and increased traffic to the airport.
London Southend Airport is now flying to
Malaga Palma de Mallorca Faro Amsterdam Paris
Winter 2024 exclusive to Lapland
Paris
Starting Sunday, October 29, 2023
The new route to the French capital adds further choice for customers in and around the south east whether they're looking for a short city break, travelling for business or connecting to the rest of the world. The service will operate up to four times a week from Sunday, October 29, 2023 with flights departing on Mondays, Wednesdays, Fridays and Sundays all year round. Paris will be the fifth destination easyJet now serves from London Southend, alongside Amsterdam, Malaga, Palma de Mallorca and Faro. Seats are available to book online from £26.99.
Tempted? Bien sûr! Click here to book your seat. Win a £250 easyJet holidays voucher
Sky's the limit
Elizabeth Line
Sustainable connectivity is key. The completion of the Elizabeth Line provides passengers with convenient links from Essex and Central London with stops at Shenfield, Stratford and London Liverpool Street, making it easier than ever to get to and from London Southend Airport.
New Website
We invite you all to take a look at our new, easy breezy airport website with a focus on helpful one-click product booking, flight information and an aviation enthusiast's favourite: a timeline of the airport's rich history. Great work by our digital marketing agency, Base Creative – thank you.
Winter 2023
Fall head over heels for the City of Love. easyJet flights to Paris will be operating throughout winter 2023.
From national treasures like the Eiffel Tower and Notre-Dame Cathedral to Disneyland Paris, Paris offers a world of culture, romance and family fun.
Summer 2024
We are in continuous dialogue with airlines to re-establish route and capacity volumes of 2018 and 2019 to provide great choice and connectivity for people living in Essex, London and the south east of England. With airlines working years in advance to secure slots, destinations, staff/crew, aircraft and more, London Southend is naturally well-positioned to see our growth ambitions realised in the next three to five years.
At the moment, airline seat capacity in London (being, 'bums on seats') is already at 94% of 2019 numbers. This means that an eventual cliff edge of London's current supply and demand will guarantee growth at London Southend Airport.
With this saturation point imminent, the airport is ready and waiting
Community News
We're happy to announce that the RAF Red Arrows, RAF Typhoon Display Team and RAF Battle of Britain Memorial Flight will be returning to and using London Southend Airport this August as the base for their shows at Eastbourne and Folkestone Airshows, subject to change up to the last minute. Detail will be shared on this soon, including how London Southend Airport will manage local interest and essential safety measures around the airfield perimeter.
Tune in to our Facebook Live on Monday, June 5 for a Q&A on the return of the Red Arrows, Paris info and general airport activity.
Connecting communities
It feels like forever ago…
Cast your mind back to Christmas 2022 and the airport donated boxes of food and cleaning products to Southend-based homeless charity, HARP Southend, and over 50 shoeboxes to the Samaritan's Purse Shoebox Appeal.
We raised more than £15,000 for our charity partner, South East and Central Essex Mind in our Mental Elf fundraiser and surprised children at Haven's Hospice with a visit from Father Christmas and an array of festive goodies.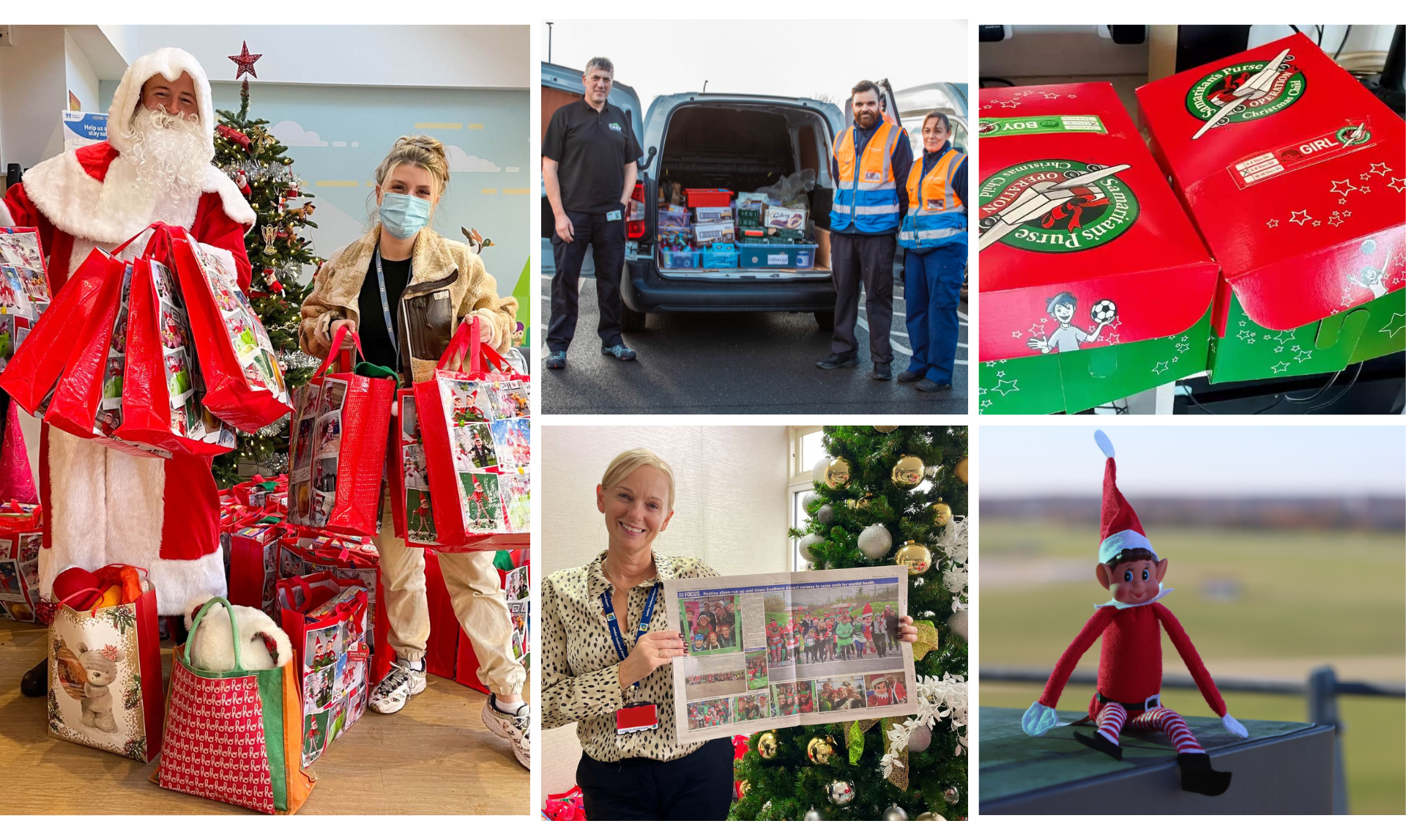 Volunteering
During the reporting year 2022-2023, airport colleagues donated 174 hours of volunteering to SECE Mind, split between their Nelson Gate wellbeing garden project, Southend Pride and the Mental Elf runway event.
Stay connected
Follow our brand-new TikTok account! Meet the team and come with us behind the scenes of the airport operation.
Keep up to date with airport tips, destination announcements and ad-hoc flight activity, as well as exclusive offers and promotions on the channels below:
Sustainability
On achieving Net Zero, we have made a great start on our journey with 25% of our terminals energy usage already being met by renewable sources, generated onsite from our solar farm.
In fact, since commissioning, this total carbon saving equates to the planting of more than 40 million trees.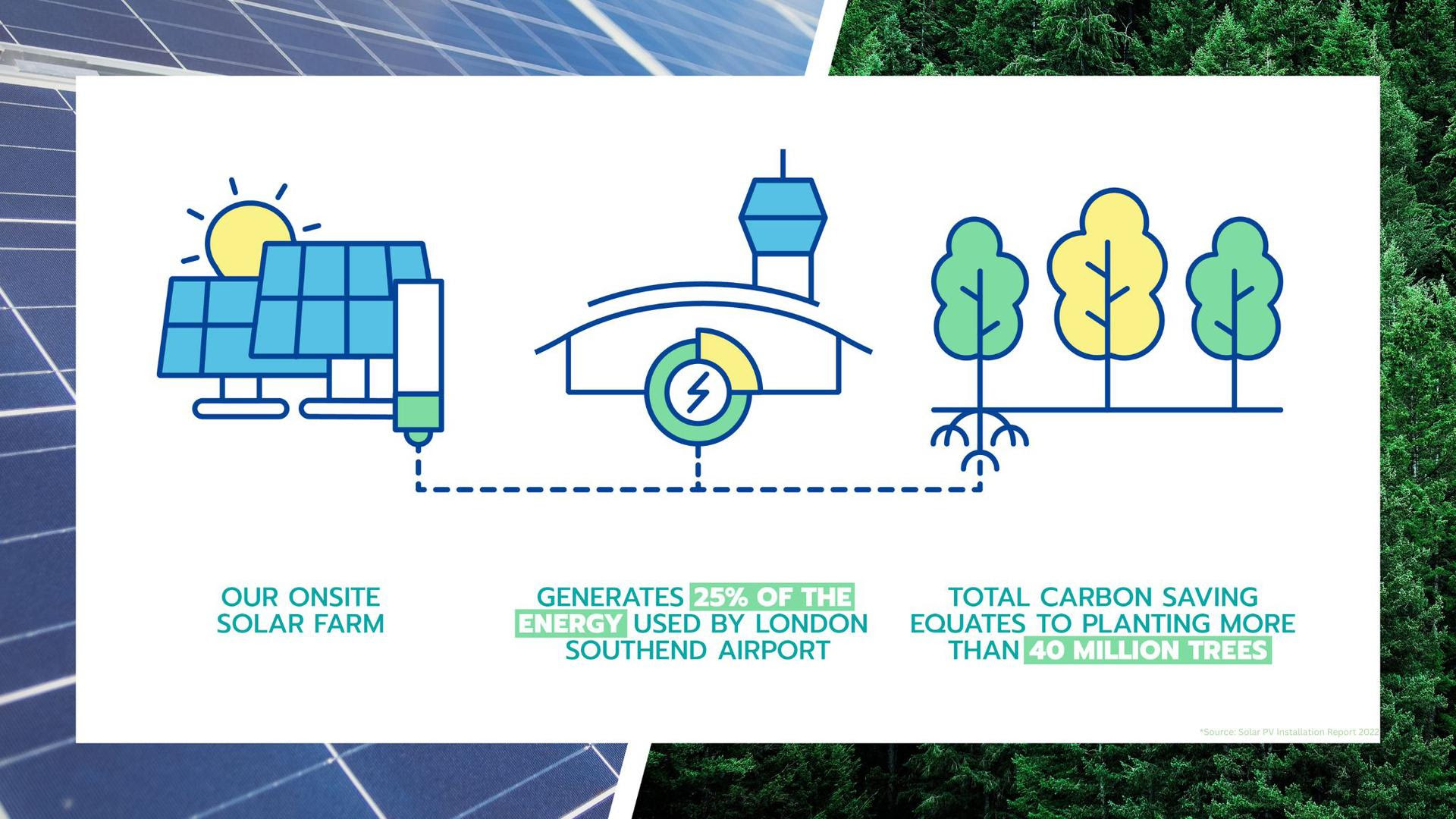 Air quality levels remain below government requirement levels. More info here.
Our Net Zero plan is in development and we will continue to make infrastructure and operational development decisions as a modern airport intent on achieving our plan to 100% Net Zero.
London Southend Jet Centre
Our first EV (electric vehicle) charging point was installed in the London Southend Jet Centre car park in February for use by Jet Centre customers and airport staff. Future plans include more EV charging facilities to meet passenger demand as we grow.
It's quick, simple and safe to park onsite at London Southend Airport
Vacancies
Looking for a new challenge? Want to work both Tower & Radar? Opportunity to earn up to £100k in your first year with us?
We are looking for experienced, talented, and qualified Air Traffic Controllers to join our team. You will be responsible for the safe, efficient, and effective operation of Air Traffic Control at London Southend Airport.
Check out the latest vacancies on our careers page.